Types of Wine found in Temecula Wineries

Many types of wine are produced by Temecula Wineries, but a few select grapes are grown in this region. Because Temecula Valley is a relatively warm climate, certain grapes including Rhone varietals (Syrah), Cabernet and Zinfandel thrive in this type of environment.
Temecula wineries started by producing wine from these types of grapes but now other grapes including Chardonnay are grown in vineyards around Temecula Valley. Sometimes grapes including Merlot, and other colder climate grapes, are brought to Temecula Wineries from other vineyards outside the valley. Browse below to learn a little bit about the different kinds of wine you might find on your Temecula wine tasting tour.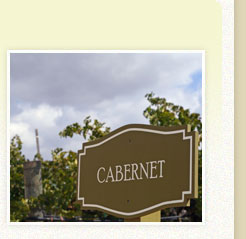 Temecula Valley Wines
Below is a brief description about some of the wines you will encounter on your Temecula wine tasting tour. Please note not all wines available in Temecula are listed below.
Syrah
Syrah, or Shiraz if you're in Africa/Australia, is a dry red table wine. Once combined with grapes add color and structure to other types of wine, Syrah by itself has become a very popular wine. Syrah is generally a very bold wine, usually with a blackberry aroma. Many varieties of Syrah are best after being aged for a long time.
Cabernet Sauvignon
Cabernet Sauvignon is a mild red wine with a deep red color. Cabernet Sauvignon is usually aged in oak and will have a blackberry aroma. Cabernet Sauvignon ages very well and is usually aged 18 months in oak barrels before bottling.
Zinfandel
Zinfandel wines were thought to be native to California, although not true, this wine is produced mostly in California. Zinfandel is available as red, white and also as dessert wine. Zinfandel wines typically do not age well. Zinfandel usually has a somewhat spicy or fuity flavor.
Chardonnay
One of the most popular white wines, Chardonnay is also produced in Temecula, CA. When not produced in oak barrels it takes on a soft fruity flavor, but when Chardonnay is made in oak barrels it has a more smoky/vanilla flavor.
Pinot Noir
Pinot Noir is a lighter colored red wine often with hints of plum or cherries. Pinot Noir is a very difficult grape to grow and often thrives in cooler climates than Temecula Valley. California Pinot Noir's are sometimes known to be fruitier than other areas of the world.
Temecula Valley Grapes
Learn more below about different grapes used to make your favorite wines. Learn about the climates they are grown in as well as what makes them different from other grapes.
Syrah Grapes
Also called Shiraz in some regions of the world, thrives in warmer climates like Temecula Valley and warmer parts of Napa valley. Syrah grapes are blackish purple in color with a thicker skin. They usually require more oxygen during vinification to help soften the grape.
Cabernet Sauvignon
A dark purple, thick-skinned grape, found all over the world including Napa Valley and Temecula Valley. The cabernet sauvignon grape grows better in slightly warmer temperatures such as those found in Temecula Valley. Cabernet Sauvignon grapes are sometimes mixed with other grapes to make different types of wine.
Zinfandel
One of the first grapes planted in the warmer Temecula Valley region was Zinfandel. Zinfandel is used to make the sweet White Zinfandel as well as many other dessert wines. The red Zinfandel grape is used to make both red and white Zinfandel wines.
Chardonnay
The most popular grape in Australia is also grown in Temecula, California. Chardonnay grapes are green in color and are normally grown in somewhat cooler climates.
Pinot Noir
Pinot Noir, is a thin-skinned purple grape that is one of the more difficult grapes to grow. Although it is sometimes grown in Temecula Valley a lot of wineries will get the Pinot Noir grapes from other cooler climates. Pinot Noir is one of the oldest grapes used for making wine and is well known throughout the world.